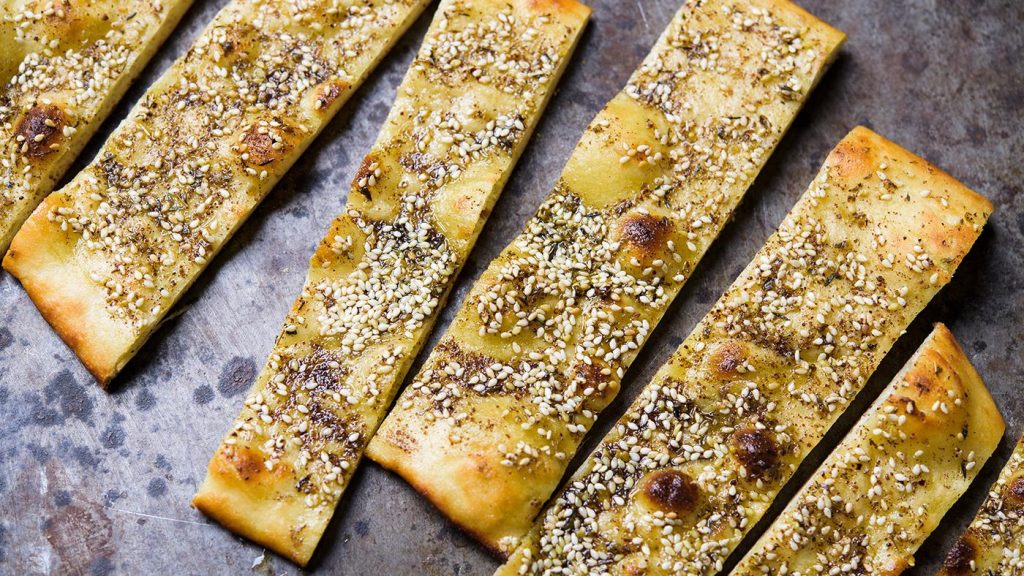 This versatile dough is a breeze to make in a food processor and can be used for Middle Eastern–style flatbreads or pizzas with various toppings. The Greek yogurt makes a supple dough that's easy to work with and that bakes up with a chewy-soft crumb and subtle richness.
Note: Don't under-mix the dough in the food processor; it needs a full minute of processing to build the gluten that provides structure and strength. When done, the dough may be warm to the touch; this is normal.
Makes: Two 12-inch oval flatbreads
Ingredients
For the dough:
(1 3/4 cups) bread flour, plus more for dusting
1 1/2 teaspoons instant yeast
1 1/4 teaspoons kosher salt
3/4 cup plain whole-milk Greek-style yogurt
1 tablespoon honey
For the topping: 
6 tablespoons extra-virgin olive oil
2 tablespoons sesame seeds, toasted
2 tablespoons za'atar

Directions
1. In a food processor, combine the flour, yeast, and salt, then process until combined, about 5 seconds. Add the yogurt, honey, and 1/4 cup water. Process until the mixture forms a ball, about 30 seconds; the dough should be tacky to the touch and should stick slightly to the sides of the bowl. If it feels too dry, add more water, 1 tablespoon at a time, and process until incorporated. Continue to process until the dough is shiny and elastic, about 1 minute.
2. Transfer the dough to a lightly floured counter. Flour your hands and knead the dough a few times, until it forms a smooth ball. Divide the dough in half and form each half into a taut ball by rolling it against the counter in a circular motion under a cupped hand. Space the balls about 6 inches apart on a lightly floured counter, then cover with plastic wrap. Let rise until doubled in volume, 1 to 1 1/2 hours.
3. Heat the oven to 500°F Working one at a time, gently stretch each ball on a lightly floured counter to an oval approximately 6 inches wide and 12 inches long. The dough is now ready to top and bake.
4. In a small bowl, stir together the oil, sesame seeds, and za'atar
5. Transfer one portion of the shaped dough to the cookie sheet with parchment paper and, if needed, reshape into a 6-by-12-inch oval. Spoon half of the oil mixture evenly over the entire surface of the dough. Slide the dough onto the baking steel and bake until the edges are golden brown, 7 to 9 minutes.