For this recipe, change the herbs you add depending on the time of year. Basil is great in the summer.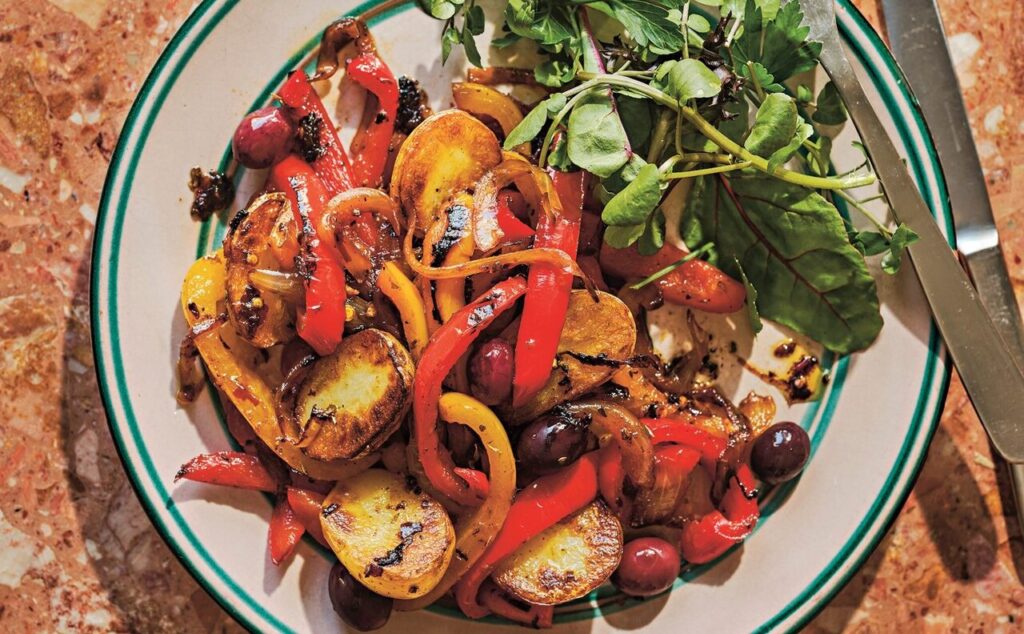 1 pound small potatoes, peeled or not, as you prefer (the skin is usually very thin) 
5 peppers, a mixture of yellow and red
5 tbsp extra-virgin olive oil
1 onion, sliced
3 garlic cloves, grated to a purée 
1 tsp chilli flakes (use less if you prefer the dish less hot)
2 tsp dried oregano
Fresh chopped parsley
Handful of small good-quality black olives, pitted (optional)
Method
Halve the potatoes lengthwise and steam or microwave them until slightly tender on the outside but not soft all the way through – don't overcook them or they'll collapse when you fry them. Dry the potatoes in a clean towel
Halve and deseed the peppers and cut the flesh into strips. Heat 3 tbsp of the oil in a large frying or sauté pan and add the peppers and onion. 
Cook over a medium heat for about 12 minutes, stirring from time to time, then add the garlic and cook for another 3 minutes.
Add the potatoes to the pan along with the rest of the oil, the chilli flakes and some seasoning. If you're using dried oregano add it now.
Continue to cook, stirring from time to time, until the potatoes are coloured and the peppers are a little scorched at the edges, another 8 minutes, but you may need longer.
If using parsley, add it at the end. Check the seasoning.
Serve this on its own with a green salad or as a side dish to meat or fish. You can add black olives right at the end if you like.