This is the perfect Fall salad to go with your meals! Think cranberries, squash, and pecans with pearl couscous. It is absolutely delicious.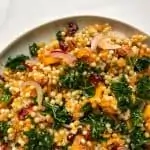 Ingredients
Dressing
1/4 cup Olive Oil
1 tbsp Spicy Brown Mustard
1 tbsp Dijon mustard
2 tbsp Lemon's Juice
2 tbsp Fresh orange juice
2 tbsp Honey
2 tbsp Apple Cider Vinegar
1 tsp Garlic crushed
Salt & Pepper to taste
Couscous Salad
1 1/2 cups Pearl Couscous cooked
1/3 cup Dried Cranberries
1/3 cup Pecans toasted
1/4 Red onion thinly sliced
2 cups baby spinach chopped
1 small Butternut Squash Pan roasted ( 425 for 30 minutes)
Instructions
Combine all the ingredients of the dressing. Shake or stir well. Save extras in an airtight container or jar in the fridge if there are any, Taste and adjust if needed.
Toss the spinach first in a spoon of dressing. Then, add the rest of the salad ingredients with about a 1/3 cup of dressing. How much dressing is up to you! Enjoy this salad cold. It is a great make-ahead meal prep salad to keep in the fridge.
Notes
To make this gluten-free, substitute the couscous with quinoa.