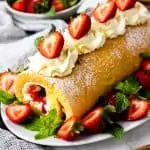 Nothing says Summer like a delicious Strawberry Swiss Roll! This dessert is made with a light and fluffy sponge cake and filled with luscious whipped cream and fresh strawberries.
4 large eggs room temperature
½ cup granulated sugar
1 teaspoon vanilla extract
½ cup all-purpose flour or cake flour
½ teaspoon baking powder
¼ teaspoon salt
1 ½ cups strawberries finely diced
1 ½ cups heavy cream cold
½ cup powdered sugar
1 teaspoon vanilla extract
Instructions
Preheat the oven to 350°F and line a 13×9 baking sheet with parchment paper. Set aside.
Using a hand mixer or a stand mixer with a whisk attachment, beat 4 eggs eggs on a high speed for about a minute until foamy. Gradually add ½ cup of granulated sugar and 1 tsp vanilla extract and continue beat on a high speed for 6-7 minutes, until the mixture is thick, pale, and tripled in size.
In a separate mixing bowl, mix ½ cup all-purpose flour, ½ tsp baking powder, ¼ tsp salt, and sift it to the mixture in three steps. Using a spatula, fold it in until smooth consistency with no hidden flour pockets. Do not over mix.
Pour the batter on the baking sheet, and using a spatula, spread evenly.
Bake at 350°F for about 10-12 minutes until the top is golden and a toothpick comes out clean.
While it's baking, place a clean towel on a counter and sprinkle it with powdered sugar. This step will prevent the cake from sticking to the towel when rolling.
Take it of the oven, use a paring knife to loosen the cake from the pan. Remove it from the baking pan to the clean linen towel (face down) and remove the parchment paper. Roll into the towel and let it cool off.
While it's cooling off, finely dice the strawberries.
Using a hand or stand mixer with a whisk attachment, beat cold heavy cream, powdered sugar, and vanilla extract until stiff peaks.
When the cake is cooled off, carefully unroll and loosen it from the towel. Spread ⅔ of the whipped cream evenly and top with diced strawberries, then roll the cake again. Place it on a serving plate.
To decorate, dust the dessert with 2 tablespoons of powdered sugar. Using the rest ⅓ of the cold whipped cream, pipe 4 large swirls on top and top them with 4 half strawberries.
Refrigerate for a couple of hours before serving. Enjoy!
The volume of a sponge cake directly depends on the volume of the whipped eggs. It is important to beat the eggs on a high speed for at least 6-7 minutes until the mixture get a thick consistency, pale, and triples in volume.
Another important step is when you add the flour, you should sift it into the mixture in three steps and fold it in with a spatula. Make sure not to overmix it as you can lose the volume and the cake won't rise.
Don't put too much filling in the cake. Otherwise, when you roll the sponge back in, it will squeeze the excess filling outside.