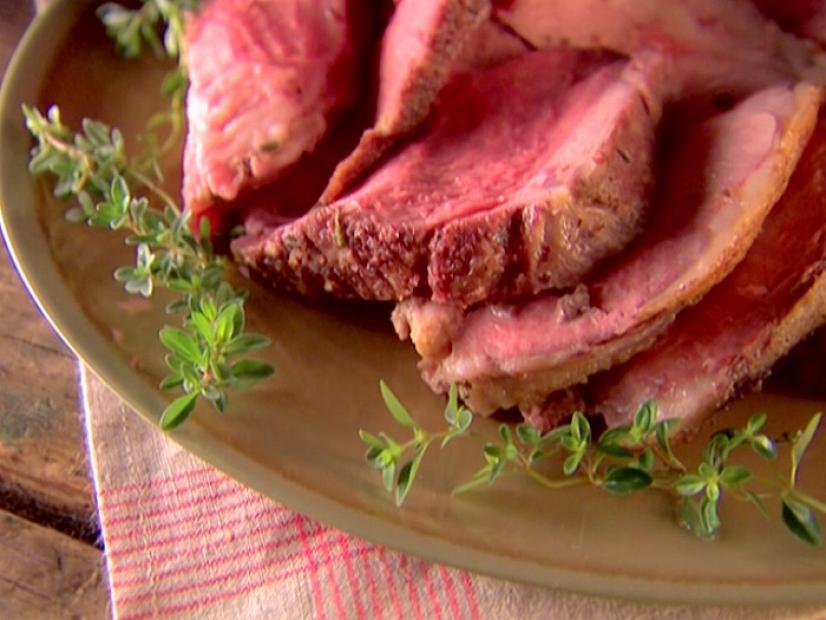 Ingredients
1/4 cup salted capers, soaked for 30 minutes, drained, coarsely chopped
1/2 cup chopped fresh Italian flat leaf parsley
1/3 cup chopped scallions
1/2 cup chopped fresh mint leaves
1/2 cup fresh lemon juice
2 teaspoons grated lemon peel
1 cup olive oil, preferably extra-virgin
2 teaspoons dried crushed red pepper flakes
3 1/2 teaspoons coarse salt
1 1/2 teaspoons freshly ground black pepper
1 (4 1/2 to 5-pound) butterflied boned lamb shoulder
1 tablespoon minced garlic
Nonstick cooking spray
Directions
Stir the first 7 ingredients and 1 teaspoon red pepper flakes in a large bowl to blend. Whisk in 1 1/2 teaspoons of salt and 1/2 teaspoon of black pepper. Set the salsa verde aside. Place the lamb in a 15 by 10 by 2-inch glass baking dish. Rub the minced garlic, remaining 2 teaspoons of salt, 1 teaspoon of black pepper, and remaining 1 teaspoon red pepper flakes all over lamb. Pour 1/2 cup of salsa verde over the lamb, turning the lamb to coat evenly. Use immediately, or cover the dish and remaining salsa verde separately with plastic wrap and refrigerate up to 1 day.
Spray the grill rack with nonstick spray and prepare the barbecue (medium-high heat). Grill the lamb until a meat thermometer inserted into the thicker parts registers 130 degrees F for medium-rare, turning occasionally, about 40 minutes. Transfer the lamb to a work surface and let rest 15 minutes.
Cut the lamb across grain into thin slices. Arrange the lamb slices on a platter. Serve the remaining salsa verde alongside.