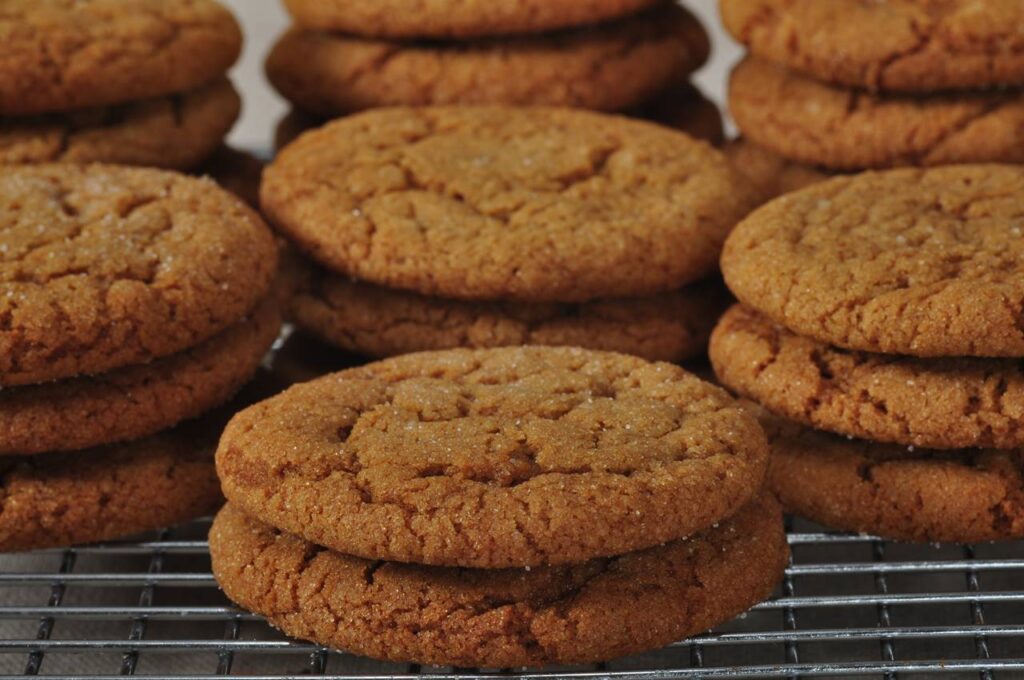 A delicious sweet and spicy cookie, that's crispy around the edges and chewy in the middle. Makes about 24 large cookies. Baking time will vary. Mine took 15 minutes. Bake a little longer for crispier cookies or a bit less for chewier.
INGREDIENTS
1 cup unsalted butter (at room temperature)
2 cups white sugar
2 large eggs
1/2 cup molasses (not blackstrap)
3 1/3 cups plus 1 tablespoon all-purpose flour
1 Tbsp. baking soda
1 1/2 tsp. ground cinnamon
1 1/2 tsp. ground ginger
1 tsp. salt (reduce to 3/4 tsp. if you used salted butter)
INSTRUCTIONS
Heat the oven to 325° F. with rack in centre of oven and prepare a baking sheet with parchment or a Silpat.
In the bowl of a stand mixer or in a large bowl using a hand mixer, cream together the butter and sugar until light and fluffy, 3 to 5 minutes. Add the eggs, one at a time, mixing until thoroughly incorporated. Beat in the molasses.
In a separate bowl, whisk together the flour, baking soda, cinnamon, ground ginger and salt . With the mixer running, slowly add the dry ingredients to the mixture until completely incorporated.
Spoon the batter into mounds (about 2 Tablespoons each) and place on prepared cookie sheet. Space the cookies at least 2- 3 inches apart, as they will spread! I bake only 6 at a time on a half sheet pan.
Baking time will vary depending on your oven. Check cookies regularly starting at 12 minutes and watch carefully. Cookies will puff up as they bake and then deflate in to a flat cookie. You want to leave them in the oven at least until they deflate tops will get crinkled. How much longer you bake after that will determine how crispy they'll be. Somewhere between 14-17 minutes is in the right range. If you like, you can rotate the pan front to back halfway through for even colouring.
Allow cookies to sit on the baking sheet until they firm up enough to move to a cooling rack (about a minute or two). Cookies will firm up as they cool.