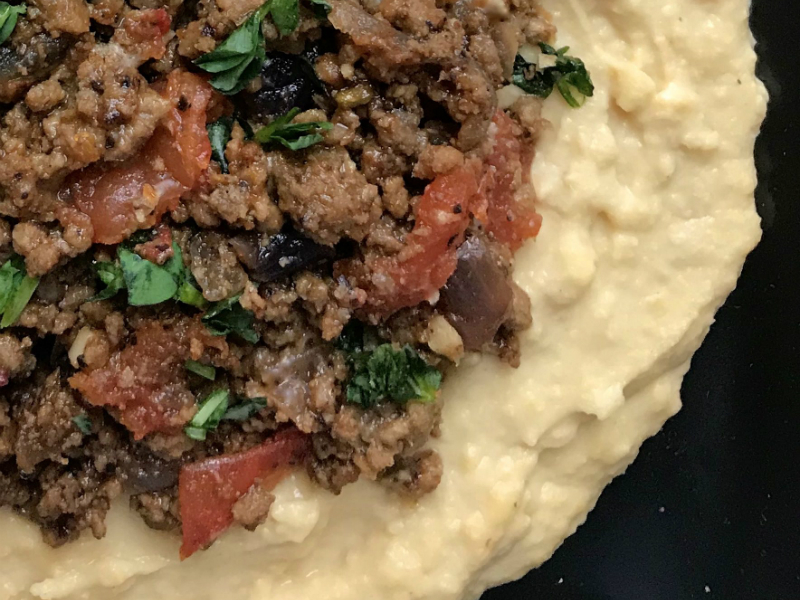 (2 tbsp) extra-virgin olive oil
(1 lb) ground beef
(1 tbsp) vegetable oil
1 medium onion, finely chopped
3 garlic cloves, chopped
(1 tsp) kosher salt,
(1 tsp ) cayenne pepper
(1 tsp) ground cumin
(½ tsp) ground sumac
(½ cup) beef or chicken broth or water
(2 tbsp) tamarind paste
(2 tbsp) tomato paste
(1 tbsp) freshly squeezed lemon juice
1 medium tomato, diced
(½ cup) chopped fresh flat-leaf parsley, plus more for garnish
2 cups hummus for serving
(¼ cup) lightly toasted pine nuts for serving.
In a large skillet, heat the olive oil over medium-high heat. Add the ground beef and cook, stirring until the meat is cooked through and has released its liquid, about 5 to 6 minutes. Transfer the meat to a bowl leaving (2 to 3 tbsp) of liquid in the skillet. Add the onion, reduce the heat and cook until the onion is lightly golden and slightly softened, 8 to 9 minutes. Add the garlic and cook 1 minute more. Return the meat to the pan and stir in the salt, cayenne, cumin and sumac, and cook stirring for 1 minute.
In a small bowl, whisk together the broth, tamarind paste, tomato paste and lemon juice. Pour over the meat. Add the tomatoes and stir to combine. Reduce the heat to medium low and simmer until the meat has absorbed most of the liquid, 6 to 7 minutes. Stir in the parsley.
Mound the hummus in a large bowl and top with the meat mixture. Garnish with pine nuts and parsley.