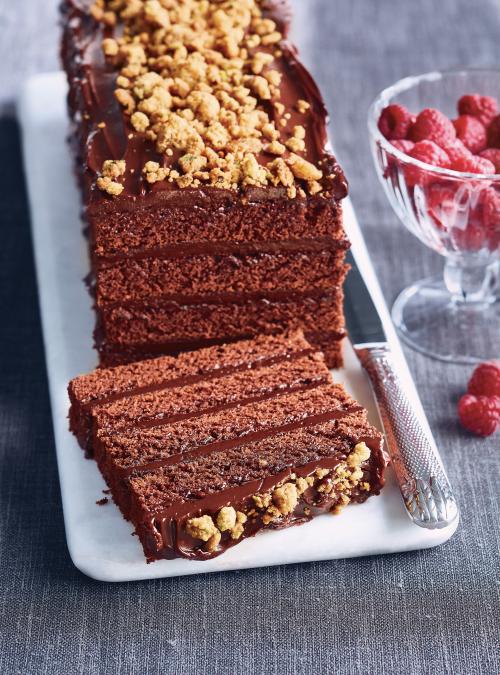 Cake
1 cups (225 g) unbleached all-purpose flour
1/2 cup (50 g) cocoa powder
1/2 tsp baking soda
1/2 tsp salt
4 eggs, separated
2 cups (420 g) sugar
1/2 cup (115 g) unsalted butter, softened
1 tsp (5 ml) vanilla extract
1 cup (250 ml) milk
Ganache
10 oz (300 g) dark chocolate, chopped
1 cup (250 ml) 35% cream
1/4 cup (55 g) unsalted butter, softened
Pistachio Crunch
2 tbsp unsalted butter
1/4 cup (55 g) brown sugar, lightly packed
1/4 cup (35 g) unsalted pistachios, roasted and chopped
2 tbsp unbleached all-purpose flour
PREPARATION
Cake
With the rack in the middle position, preheat the oven to 350°F Line a 17 x 12-inch baking sheet with parchment paper, letting it hang over both sides. Generously butter and flour the parchment paper and the uncovered sides of the baking sheet.
In a bowl, combine the flour, cocoa powder, baking soda and salt. Set aside.
In another bowl, beat the egg whites with an electric mixer until soft peaks form. Gradually whisk in 1 cup of the sugar until stiff peaks form. Set the meringue aside.
In a third bowl, cream the butter and the remaining sugar with an electric mixer. Add the egg yolks and vanilla. Mixing at low speed, sift the flour mixture into the batter, alternating with the milk. With a spatula, gently fold the meringue into the batter. Spread the batter evenly on the prepared baking sheet.
Bake for 25 minutes or until a toothpick inserted into the centre of the cake comes out clean. Let cool completely on a wire rack.
Ganache
Meanwhile, place the chocolate in a bowl.
In a small pot, bring the cream to a boil. Pour over the chocolate and let melt for 2 minutes without stirring. With a whisk, mix until the ganache is smooth. Whisk in the butter. Cover and refrigerate for 1 hour or just until the ganache is spreadable.
Pistachio Crunch
Line another baking sheet with a silicone mat or parchment paper.
In another small pot over medium-high heat, melt the butter with the brown sugar. Let simmer for 30 seconds, until the brown sugar has dissolved. Remove from the heat. Add the pistachios and flour. Mix until just moistened. Press the mixture together with your hands, then roughly crumble it up and let it fall onto the prepared baking sheet.
 Bake for 10 minutes, until lightly golden. Let cool completely on a wire rack.
Assembly
Unmould the cake. Cut the sides slightly to straighten them. Cut the cake width-wise to create four equal rectangles of 11 1/2 x 4 inches (29 x 10 cm).
 Place one cake layer on a serving dish. Cover with 1/4 of the ganache. Repeat, alternating the remaining cake layers with the ganache and ending with the ganache. Sprinkle 3/4 of the pistachio crunch on top. Serve with the remaining pistachio crunch and fresh berries, if desired.