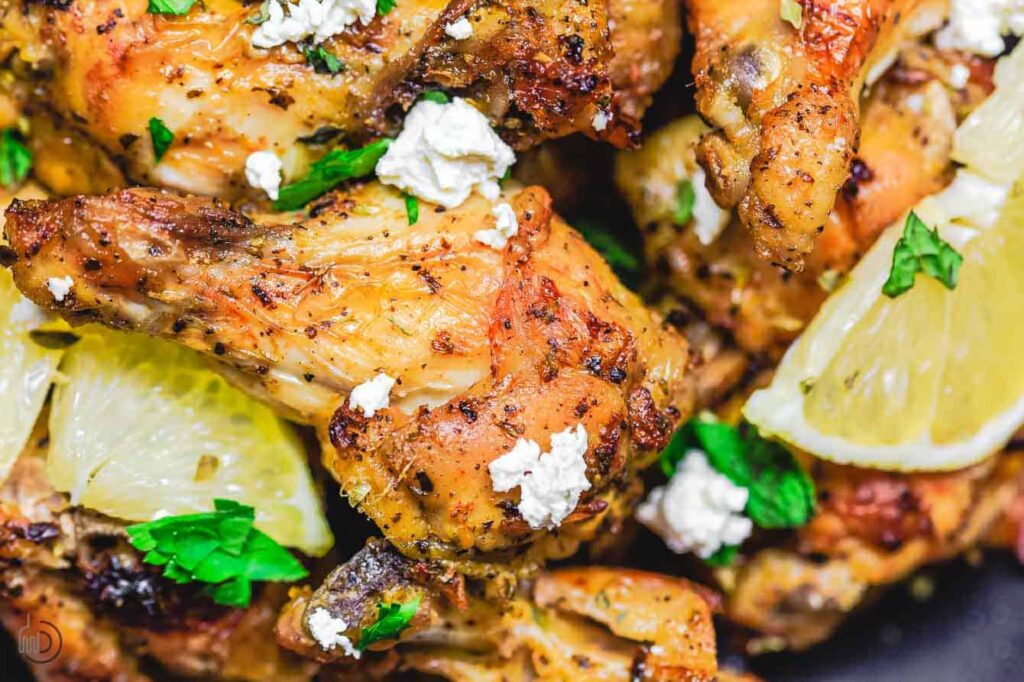 Zest and juice of 1 lemon
6garlic cloves, crushed
½cup extra-virgin olive oil
1Tbsp. cracked black pepper
1¼ tsp. kosher salt
2tsp. dried oregano
3lb. chicken wings or less
Assemble Sauce
½ cup extra-virgin olive oil
3Tbsp. fresh lemon juice
1small garlic clove, finely grated
½tsp. cayenne pepper
½tsp. cracked black pepperKosher salt
¼cup chopped parsley
3oz. feta, crumbled
Preparation
Step 1
Whisk lemon zest and juice, garlic, oil, black pepper, salt, and oregano in a large bowl to combine. Add wings and toss to coat. Cover and chill at least 2 hours and up to 12 hours.
Step 2
Place racks in upper and lower thirds of oven; preheat to 375°. Line 2 large rimmed baking sheets with foil; set a wire rack in each one if you have them. Remove wings from marinade; arrange on baking sheets. Bake wings, rotating baking sheets front to back and top to bottom halfway through, until deeply browned and crisp, about 1 hour.
ASSEMBLY
Step 3
Whisk oil, lemon juice, garlic, cayenne, and black pepper in a small bowl; season dressing with salt.
Step 4
To serve, stir parsley into dressing. Arrange wings on a platter, drizzle dressing over, and scatter feta on top. Garnish with Lemon if desired.