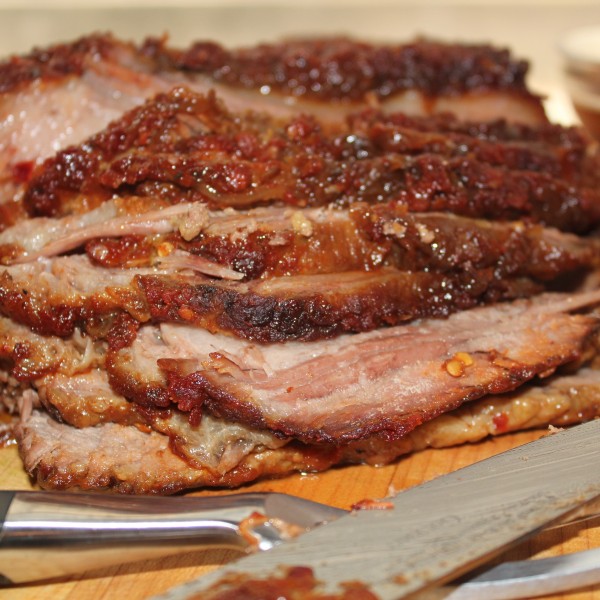 Comfort food will never go out of style. While food trends come and go, comfort food is in it for the long haul. I think about comfort food more when the weather is cold or on a rainy day or like today when 25 inches of snow has us indoors.
This recipe is excellent, leftovers make great sandwiches
8 to 10 pound brisket
Garlic cloves
4 cups beef stock (unsalted or low salt) I used chicken stock .
3 large onions, sliced
3 tablespoons vegetable oil
2 teaspoons salt
2 teaspoons Emeril's Original Essence, recipe follows
1 teaspoon freshly ground black pepper, to taste
1 teaspoon onion powder
1 teaspoon garlic powder
1 cup ketchup
1 cup chili sauce
1 cup brown sugar
this is the original recipe, I omitted the ketchup and increased the chili sauce to 2 cups.
Preheat oven to 500 degrees F.
Using a paring knife and your finger, stuff brisket all over with garlic. Place brisket in a baking dish or casserole and bake until browned on top, remove from oven, turn brisket and return to oven until browned on both sides. Reduce oven temperature to 350 degrees F. Add enough beef stock to casserole to come up 1 inch on sides, cover with foil and bake one hour.
While brisket is cooking, heat a large skillet over medium high heat and saute onions in vegetable oil, stirring occasionally, until caramelized and most liquid has evaporated, about 20 minutes. Set aside.
Remove brisket from oven after one hour and add caramelized onions and all remaining ingredients, moving meat around to combine ingredients. Cover and continue to bake until very tender but not falling apart, another 2 to 3 hours. Remove brisket to a carving board and slice. Strain reserved cooking liquids and pour over sliced brisket. Brisket may be returned to casserole dish and allowed to cool, then served the next day. (Reheated in oven.)
Brisket is better if made a day in advance.
Essence (Emeril's Creole Seasoning):
2 1/2 tablespoons paprika
2 tablespoons salt
2 tablespoons garlic powder
1 tablespoon black pepper
1 tablespoon onion powder
1 tablespoon cayenne pepper
1 tablespoon dried leaf oregano
1 tablespoon dried thyme
Combine all ingredients thoroughly and store in an airtight jar or container.
Yield: about 2/3 cup