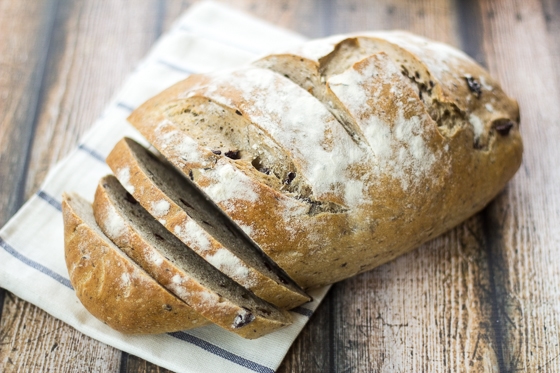 1 pk active dry yeast
3 – 4 c Unbleached all-purpose flour
1/3 c Pureed pitted kalamata or
-other brine-cured black
-olives (about 30)
1/3 c White wine
3 tb Olive oil (preferably
-extra-virgin)
1/4 ts White pepper
3/4 ts Salt & 1/4 ts dried oregano
In a small bowl proof the yeast in 1/2 cup lukewarm water with 1/2 cup of
the flour for 30 minutes.
In a bowl combine the wine, the olive puree, the
oil, the salt, the white pepper, oregano and 1/4 cup water, stir in the yeast
mixture and 2 to 2-1/2 cups of the remaining flour, and combine the dough
well. Knead the dough on a well floured surface, incorporating more of the
remaining flour as necessary to keep it from sticking, for 15 minutes. Put
the dough in a bowl coated with olive oil,
let it rise, covered with plastic wrap, in a warm place for 1 hour, or
until it is double in bulk. Punch down the dough, form it into an oval,
about 8 inches long, and put it on a baking sheet lined with parchment paper.
. Score the
top of the bread diagonally with a sharp knife at 1 inch intervals and let
the bread rise in a warm place for 30 to 40 minutes, or until it is almost
double in bulk. Bake the bread in a preheated 375 degree oven for 35 to 45
minutes, or until it is golden and sounds hollow when tapped, transfer it
to a rack, and let it cool. 1 loaf.