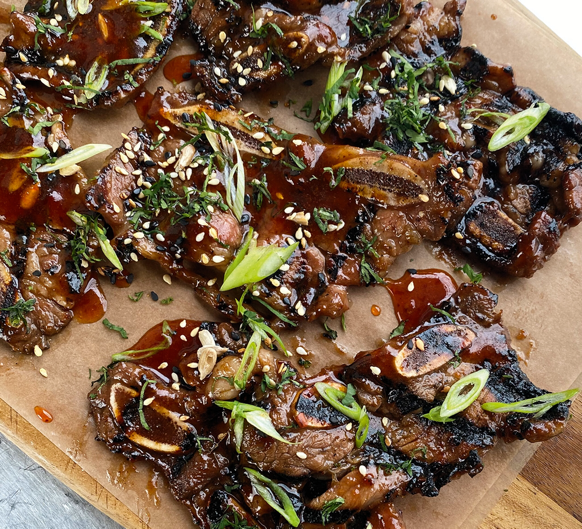 Eight Spice Seasoning

1 tbsp kosher salt
½ tbsp ancho chili powder
2 tsp brown sugar
1 tsp garlic powder
1 tsp onion powder
1 tsp ground coriander
1 tsp black pepper
1 tsp paprika
¼ tsp cayenne pepper
Hot Chipotle Honey

1 tsp fresh ginger
5 tbsp honey
2 tbsp chipotle in adobo (can)
¼ tsp ground toasted cumin
Short Ribs
1½–2 lbs. Miami-cut short ribs
Eight Spice Seasoning (see recipe above)
2 tbsp Hot Chipotle Honey (see recipe above), divided
2 tsp toasted sesame seeds
Pinch chiffonade (thinly sliced) cilantro
8–10 scallions, julienned
MAKE SEASONING AND HONEY
1. In bowl, mix all Eight Spice Seasoning ingredients together. Set aside.
2. For Hot Chipotle Honey, peel and remove skin from ginger. Mince or zest into medium bowl. Add in all remaining ingredients and mix. Set aside.
PREPARE SHORT RIBS
1. Season ribs liberally with Eight Spice Seasoning, and coat in 1 tbsp of Hot Chipotle Honey, then drizzle 3 to 4 tbsp of olive oil overtop. Marinate overnight.
GRILL AND ASSEMBLE
1. Add short ribs to hot grill and cook, about 2 minutes per side, until char marks appear.
2. Remove from grill and add to large bowl. Toss in remaining 1 tbsp Hot Chipotle Honey, until all ribs are glazed.
3. Spread out across serving board. Garnish with toasted sesame seeds, cilantro and scallions. Enjoy!