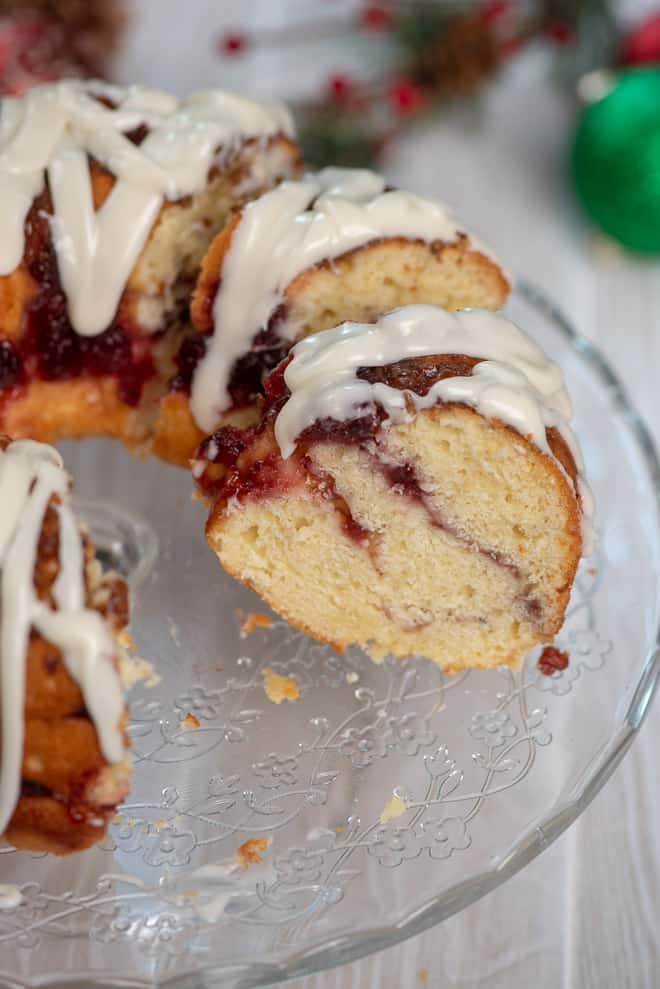 This delicious cake is a fabulous way to make use of leftover cranberry sauce.
INGREDIENTS
2 cups all-purpose flour
1 teaspoon baking powder
1/2 teaspoon baking soda
1/2 teaspoon salt
1/2 cup butter, softened
1 cup sugar
2 large eggs
1 teaspoon almond extract
1/2 teaspoon pure vanilla extract
1 cup sour cream
1/3 cup chopped walnuts or Pecans
1 can, 14 ounces whole-berry cranberry sauce
GLAZE
3/4 cup confectioners' sugar
2 to 5 tablespoons whole milk or heavy cream
1/2 teaspoon vanilla extract
INSTRUCTIONS
Preheat oven to 350 degrees F. Coat a 10- to 12-cup Bundt pan with Baker's Joy (see Recipe Note) or brush with butter and dust with flour.
In a medium mixing bowl, whisk together the flour, baking powder, baking soda and salt. Set aside.
In a large bowl, cream butter and sugar until light and fluffy. Add eggs, one at a time, beating well after each addition. Stir in almond and vanilla extract. 
Add the dry mixture to the butter mixture in increments, alternating with the sour cream. Beat well after each addition.
Sprinkle the walnuts into the prepared Bundt pan. Drop one-third of the batter in small spoonfuls over the nuts. Spoon half of the cranberry sauce over the batter and use your spoon to lightly spread it out. Repeat layers, ending with the final third of batter.
Bake for 50 to 55 minutes or until a toothpick inserted in the center comes out clean. Cool for 10 minutes before removing from pan to a serving platter to cool completely.
Combine glaze ingredients and drizzle over the cooled cake. Whole milk is quite a bit thinner than heavy cream so you will need less to reach a nice drizzling consistency. Start with a small amount and add only as much as needed.
I didnt do the glaze.