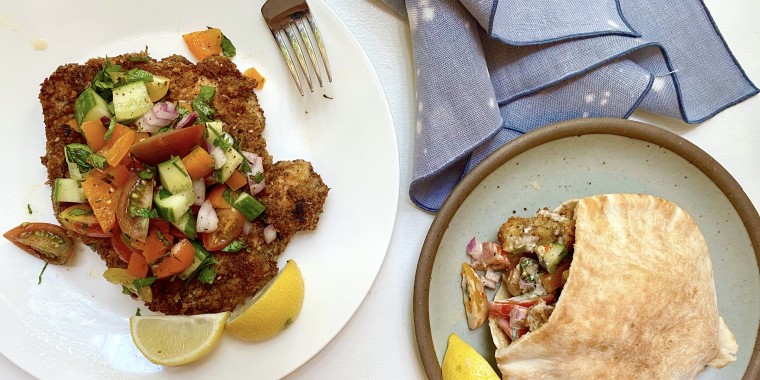 FOR THE SALAD:
In a large bowl, combine the bell pepper, cucumber, onion, tomatoes, parsley and mint. Cover and refrigerate until ready to use.
FOR THE SCHNITZEL
Heat the oven to 200 F. Place an ovenproof platter or a baking sheet in the oven to warm. In a wide, shallow bowl, stir together the flour, 1 teaspoon salt and a generous pinch of pepper. Whisk together the eggs and a pinch of salt in another shallow bowl. Combine the panko, za'atar, lemon zest and a pinch of salt in a third shallow bowl.
Using the flat side of a meat pounder or a rolling pin, gently pound each cutlet between 2 sheets of plastic wrap to 1/8-inch thickness. Pat the cutlets dry and season both sides lightly with salt and pepper. Dredge in the seasoned flour, shaking off excess. Dip in the eggs, letting excess drip off, then gently press into the panko mixture to completely coat. Transfer the cutlets to a large plate.
Heat the 1/2 cup oil in a 10- to 12-inch skillet over medium-high heat until hot but not smoking. Fry the cutlets in 2 batches, turning once, until cooked through and crispy, about 3 minutes per side. Drain each batch on paper towel–lined plates, season with salt, then transfer to the platter in the oven to keep warm.
TO SERVE:
Add the 2 tablespoons oil, lemon juice, za'atar, sumac, if using, and a generous pinch each of salt and pepper to the vegetable mixture. Toss to combine.
Serve the schnitzel with the salad piled on top and lemon wedges on the side.
FOR THE LEFTOVER PITA SANDWICHES
Slice leftover schnitzel cutlets into 2-inch strips. Cut the top inch off each pita. Spread a tablespoon or so of hummus into each pita pocket
Stuff 4 to 6 strips of schnitzel into each pita, then top with remaining Israeli salad. In a small bowl, whisk the tahini with a teaspoon or so of warm water until smooth and pourable, but still thick
Drizzle the pitas with the tahini sauce, and a few drops of hot sauce if desired. Serve with more lemon wedges on the side.