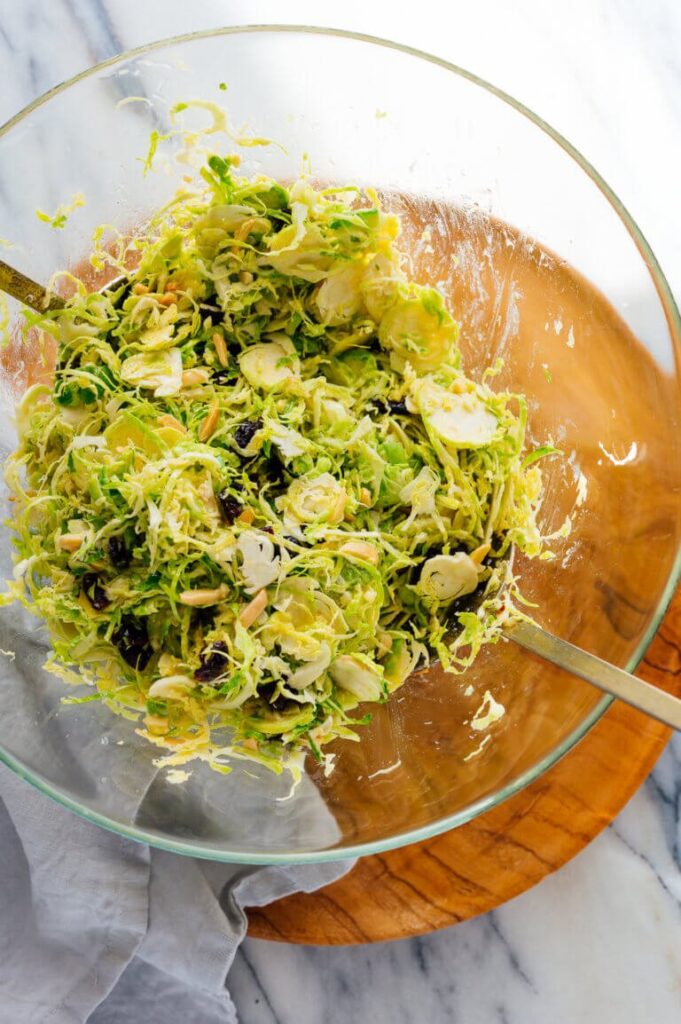 This delicious slaw recipe features shredded Brussels sprouts tossed with tangy honey mustard dressing, toasted almonds and dried cherries (or cranberries).
Coleslaw
1 pound Brussels sprouts
⅓ cup slivered almonds, toasted
⅓ cup tart dried cherries or cranberries, chopped
Honey mustard dressing
¼ cup extra-virgin olive oil
2 tablespoons apple cider vinegar
1 tablespoon honey
1 tablespoon Dijon mustard
1 garlic clove, pressed or minced
¼ teaspoon fine sea salt
INSTRUCTIONS
Shred the sprouts: First, cut off the tough ends of the sprouts and any browning outer leaves. Then shred them in a food processor using the slicing blade, pressing the sprouts against the blade with the provided plastic pusher. If you don't have a food processor, slice them as thinly as possible using a sharp chef's knife, then give them a few extra chops for good measure.
If you are using raw almonds, toast them over medium heat for three to four minutes, stirring frequently, until they are fragrant and turning golden on the edges.
Whisk together the olive oil, vinegar, honey, mustard and garlic until blended. In a medium serving bowl, toss the shredded sprouts with the almonds, chopped dried fruit, and dressing. Taste, and add another pinch or two of salt if it needs a little something more.
Serve immediately, or cover and refrigerate for up for 4 days. The Brussels sprouts will continue to soften as they marinate.