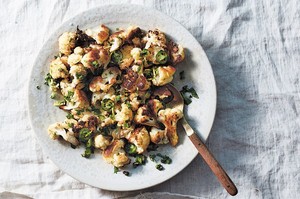 INGREDIENTS
1 head cauliflower, quartered, cored, and cut into bite-size florets
3 to 4 tablespoons extra-virgin olive oil, plus extra for drizzling
Salt and freshly cracked pepper
1 lemon
1 large handful fresh parsley (about 1/2 cup), roughly chopped
1 tablespoon capers
1 jalapeño, seeded and thinly sliced
Flaky sea salt, for serving
PREPARATION
Preheat the oven to 425°F. Spread the cauliflower on a baking sheet in a single layer. Drizzle with the oil, season generously with salt and pepper, and toss to coat. Roast the cauliflower, tossing the florets halfway through, until they are deep golden and crispy, 30 to 35 minutes total.
While the cauliflower is roasting, zest half a lemon,
Transfer the roasted cauliflower to a serving bowl. Top it with the parsley, capers, jalapeño, and lemon zest. Toss to coat all of the ingredients, and sprinkle with a pinch or two of the flaky salt.