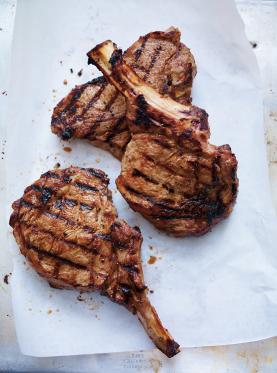 Ingredients
1/4 cup olive oil
2 tbsp Dijon mustard
2 tbsp white wine
1 tbsp honey
1 tsp finely chopped capers
2 cloves garlic, chopped
4 bone-in veal chops, about 1 inch thick, trimmed of fat
Salt and pepper
Preparation
In a glass dish, combine all the ingredients except for the meat. Add the veal chops
and thoroughly coat with the marinade. Cover and refrigerate for 12 to 24 hours. If
possible, turn the chops once during the marinating.
Preheat the grill, setting the burners to high. Oil the grate.
Remove the chops from the marinade and season with salt and pepper. Reduce the
heat to low and grill the chops for 6-8 minutes on each side for medium rare or until
the desired doneness. Serve with potatoes and a vegetable of your choice.