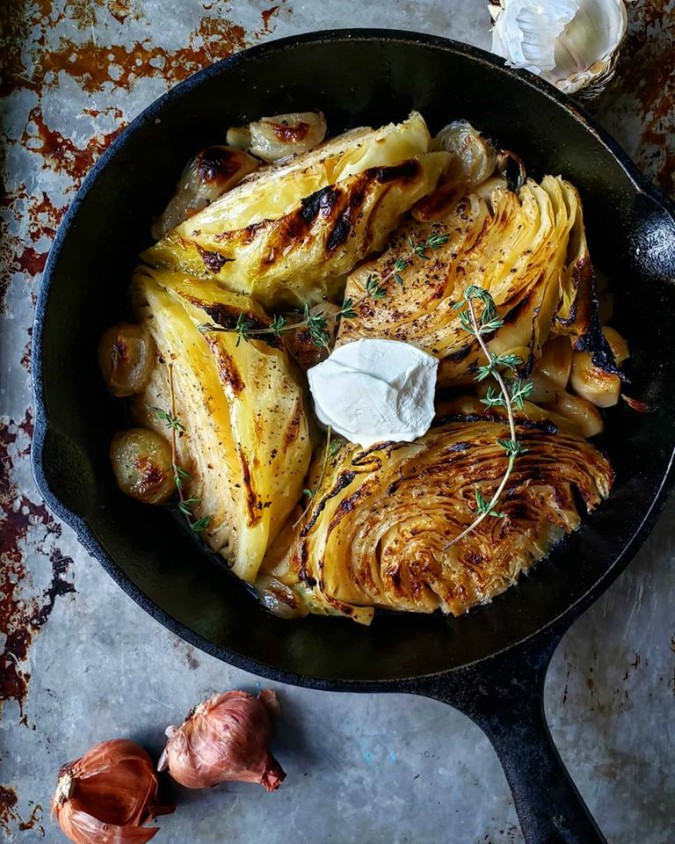 MELTED GREEN CABBAGE
Active Time: 20 minutes
Total Time: 2 1/2 to 3 hours
1/3 cup (75 mL) extra-virgin olive oil
2 tsp (10 mL) kosher salt, plus more to taste
1/2 tsp (2 mL) coarsely cracked black pepper, plus more to taste
2 small heads of green cabbage (2 lb; 900 g), quartered (but not cored)
10 whole garlic cloves, peeled
4 shallots, peeled and halved
1/2 cup (125 mL) dry, acidic white wine,
1/2 cup (125 mL) chicken or vegetable broth, plus more if necessary. Increase the stock to 1 cup if you don't want to use wine.

For the finishing if desired,
3 tbsp (45 mL) unsalted butter, cut into small pieces
1/4 cup (50 mL) crème fraîche or sour cream
Lemon wedges, for serving (optional)
STEP 1
Preheat the oven to 300°F (150°C).
STEP 2
In a heavy, large, high-sided skillet or shallow Dutch oven, heat the olive oil over medium-high heat. Sprinkle 1 teaspoon (5 mL) of the salt and 1/4 teaspoon (1 mL) of the pepper directly onto the oil, then arrange the cabbage wedges in the pot, making sure that each is lying on a flat side (you can cram them in; they'll relax into one another as they release liquid). Let the undersides get nice and brown, resisting the urge to move them too much but checking once to make sure they're not burning (reduce the heat slightly if they are), 6 to 7 minutes. Using tongs, flip the cabbage wedges, then tuck the garlic cloves and shallots into the pot, and brown the undersides of the cabbage, another 6 to 7 minutes. Add the wine and broth, bring to a boil, reduce the heat, and add the remaining 1 teaspoon (5 mL) salt and 1/4 teaspoon (1 mL) pepper along with the thyme. Cover with a tight-fitting lid, transfer to the oven, and cook until soft, slumped and mahogany brown, 2 hours, or 2 1/2 hours for even softer cabbage. Uncover, cool slightly, and serve the cabbage with the liquid accumulated in the pot. Season with salt and pepper and top with butter and crème fraîche. Serve with lemon wedges, if desired.
Serves: 4