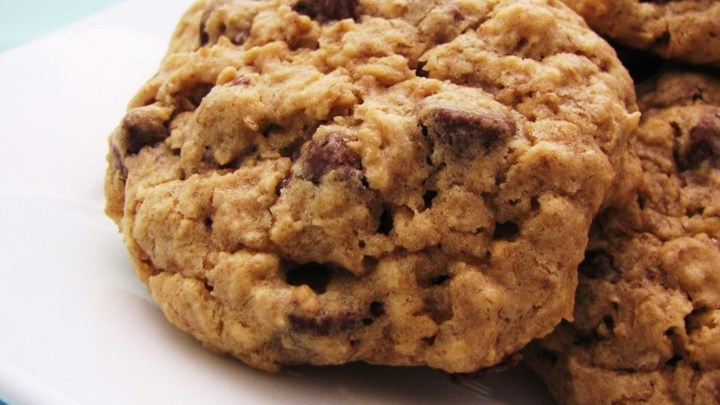 INGREDIENTS
1cup butter
1 1⁄2 cups firmly packed brown sugar
2 eggs
1teaspoon vanilla
1 1⁄2 cups all purpose flour
2 teaspoons baking soda
1 teaspoon salt
2 1⁄3 cups rolled oats
1(12 ounce) package semisweet chocolate
1 1⁄2 cups nuts, chopped walnuts or pecans
DIRECTIONS
Beat butter and brown sugar in large bowl of an electric mixer, until creamy; beat in eggs and vanilla.
In separate bowl, stir together flour, baking soda, and salt; gradually add to butter mixture, blending thoroughly.
Add oats, chocolate chips, and nuts; mix well.
Shape each cookie by spooning dough into a 1/4-cup measure, level off, and turn out onto a greased baking sheet or parchment paper. Space cookies a minimum of 4 inches apart and 2 inches from edge of baking sheet.
flatten out cookies in your hand slightly wet with water.
Bake in a 350 degree farenheit oven for about 12 minutes or until edges are lightly browned. Place on baking sheets and allow to cool for 5 minutes; transfer to racks to cool completely.
Store in airtight container.